The other warband I'm working up for SAGA are Vikings to face my Normans.
Foundry's eBay store
has a number of old citadel sculpts, but I've already started my warband using Wargames Factory and Gripping Beast plastics. Do these old Citadel sculpts measure up, or are they dwarfed by today's modern "heroic scale" figures?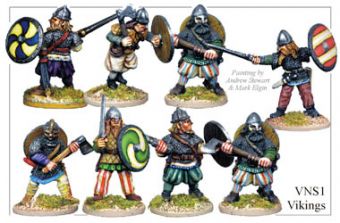 I like these sturdy Viking figures. They aren't rushing about, charging into melee, but I dig the quiet air of menace suggested by the guys wielding axes and wearing the helms with face guard. These are listed as ex-Citadel.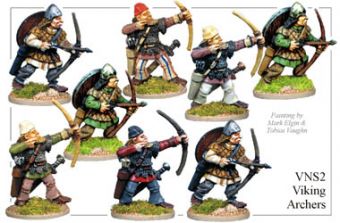 The recent plastic sets from Gripping Beast and Wargames Factory don't have a plethora of ranged options, so I was thinking of picking up these Vikings as an archers option for SAGA. More ex-Citadel I believe.
A separate section of the Foundry store offers another range of Viking figures, but these aren't ex-Citadel. More about these after the jump.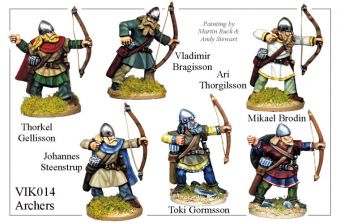 These don't appear to be ex-Citadel figures, but they still hold up to my eyes. Maybe sculpting the static pose archers are forced to hold when firing is easier than trying to simulate more dynamic poses.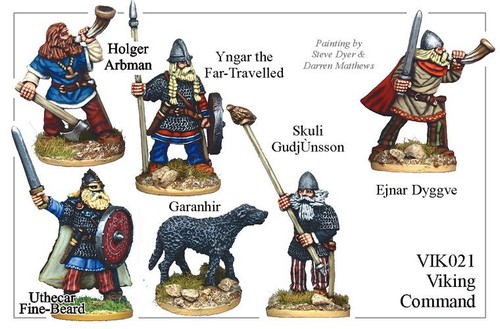 There are definitely quite a few "dogs" in this line of Vikings, and I don't mean Garanhir the hound from this group. Gigantic axes, stiff or odd poses seem to crop up more in this line of Viking figures than in the ex-Citadel figures, but I thought this command set was nice.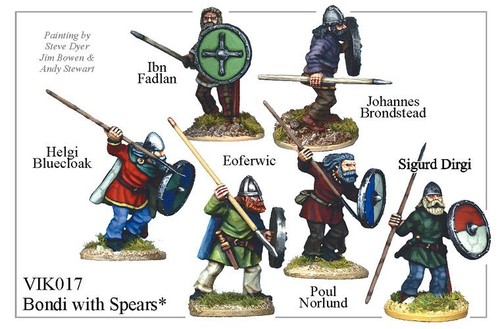 There's also a set of Viking Bondi with Swords in this line, but being the poorer warriors, I thought it more likely these fellas would wield spears. I have a number of Foundry Ancient Germans in similar poses as these, and was quite happy with the way they painted up. I'm not sure if these are by the same sculptor but nothing about these Bondi that indicates they should be tossed to the eBay bargain bin. Weird.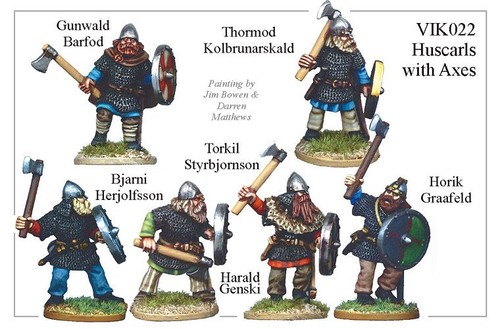 Finally there are these huscarls with axes. I'm on the fence about these figures as those axe handles are a bit large, and some of the poses are starting to look a bit rigid. I really like the helms and the long flowing beard on "Harald Genski" though.
There are a number of other packs of Vikings in the Foundry eBay store, but these were my favorites. I'm itching to pull the trigger on snatching up some of these Vikings, but not having seen them in the flesh I'm a bit hesitant. So, what do you think? Have you painted any of these figures up? Are they sculpted to a more modern 28mm scale?